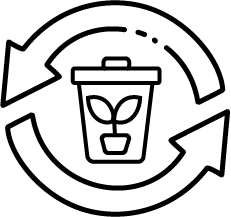 What Is Zero Waste?
According to the Zero Waste International Alliance, Zero Waste is the "conservation of all resources by means of responsible production, consumption, reuse and recovery of all products, packaging, and materials, without burning them, and without discharges to land, water or air that threaten the environment or human health."
Start Small
Striving towards zero waste means that you reduce consumption of unnecessary goods, reuse as much as possible, and as a last resort, recycle whatever you can.
---
HHGTF is Leading the Way
Join HHGTF in learning more about this issue. Read the articles below for more information as well.
HHGTF focused on the theme of Zero Waste in 2014. You can review the groups' Zero Waste activities and events by reviewing the Newsletters and Meeting Notes of that year.
---
Articles
Click the Titles Below to Read More About Each Topic
---
Green Shopping? You Read Right! There are ways to shop that create Zero Waste! We have several Zero and low waste shopping options in the are. Read on to learn more!

---

If you've been thinking about how your habits impact the environment, you've likely become aware of what you consume and how you consume it. Using the Three R's First, Reduce! Then Reuse. Lastly, Recycle. These small changes can be a big step toward a zero-waste home. The 15 Tips: Here are just a few possible […]

---