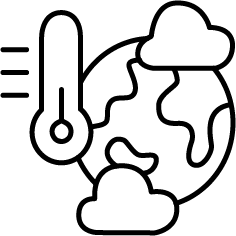 We Are the Cause
Most scientists agree that human activity has caused and will continue to cause climate change. The time for us to take action is now. Read on to find out what YOU can do.
We Can Also Be the Solution
While individual efforts help, when we take action together as a community, we can achieve more. Grassroots organizations like HHGTF are a great way to learn, and to support each other as we pursue a better future. Think globally, act locally! Become a member today!
Learn More
Learn more about our choices and how they impact our world. Attend an HHGTF event; membership is not required to attend! But of course, we hope you will join HHGTF and become a member. You can also read the articles below for more information as well.
---
HHGTF focused on the theme of Climate Change in 2022. You can review the groups' climate change initiatives and activities via the 2022 Newsletters and Meeting Notes.
---
Articles About Climate Change & How to Help
Click the Titles Below to Read More About Each Topic
---
What is Climate change? Climate change refers to long-term shifts in temperatures and weather patterns. Climate shifts sometimes appear naturally. Over the last one hundred years, human activities have been the main catalyst of climate change, primarily due to burning fossil fuels like coal, oil, and gas. Climate Change is one of the most important issues facing our […]

---